14 février 2007
Hey hey,
here we go!
my very first message on this brand new blog.. let's experiment a bit.
Welcome again,
Cool to know that you'll be a lot reading this blog too ;)
Leon and me are taking pictures everyday with my canon eos 350d camera, and be sure we'll post as often as we can, which means as good as everyday!
Today, tuesday, we went for a little walk through the area where we live: Lakeview. It's a quarter North East of New Orleans. very quiet. Here, each step leads us to new emotions, and each thing we look at is a new picture.
I'm fascinated by the houses. Each third is either destroyed, or has a graffiti on its door, which was used by the authorities to display if the house had been searched or not, or has a brown mark on it which represents the level where the water stayed for 2 weeks! Piles of wood pieces are lying in the streets, in front of the houses. It looks like the house has been vomiting, being sick after being infected by the Katrina syndrom.
Trailers. People whose houses are still damaged are living in trailers for months, provided by the FEMA.
You can hear, night and day, some hammer sounds: people who are repairing their houses. They are the pulse of the current reviving New Orleans.
everywhere stand cards and panel from real estate agencies: they want to buy your house, or to help you rebuilding it...The market is busy
Cruising through the 9th Ward by car was also something. You can feel this buzz on the street, that something is wrong. All houses look the same: it's a "housing project". And every single house has the scars left by the hurricane.
The main impression that comes out of it is that it will take years before the city will recover, but also that the people have a strong will to stay, rebuild, and go back to their normal lives.
Everybody is friendly to us, and the american way of communicating almost allows you to talk to somebody on the street as if he's been your friend for years!
and I'm here, looking at all that, wondering how beautiful and "chilled out" this city might have been before...
example follow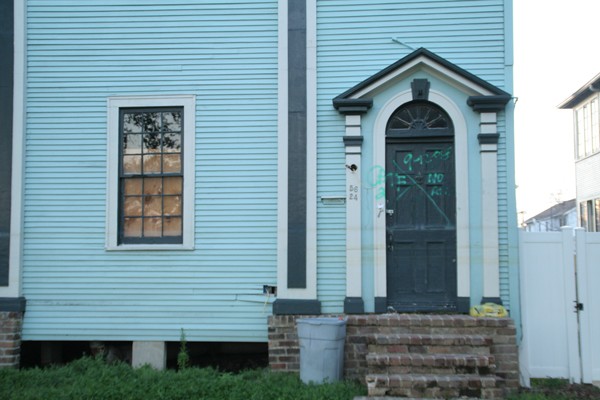 Commentaires sur First message